David and Ann Marie Curtin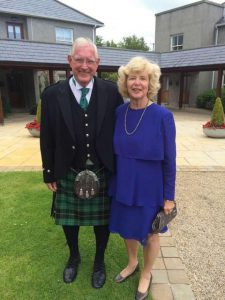 David and Ann Marie Curtin, of Fairfield, the great-grandchildren of Irish immigrants, have been named Grand Marshals for the 2018 Greater Bridgeport St. Patrick's Day Parade.
"Ann Marie and I will walk next year — as we have for the last 20 years — in particular remembrance of our great-grandparents, Michael Curtin, who emigrated in 1834, and Thomas McMahon, who came in 1864," said David, a retired Verizon executive.
"And for all those who came both before and since. On this coming St. Patrick's Day we should remember that we're all immigrants," he said.
The 2018 parade will be on Friday, March 16 in downtown Bridgeport.
Both were born and raised in Syracuse, N.Y., and moved in 1980 to Connecticut, where they raised their five children: Meghean, Paul, Dave, Dan and Neil. They are the proud grandparents of 17 grandchildren.
Ann Marie is a retired special education teacher in the Fairfield Public School system. They are members of the Gaelic American Club; Ancient Order of Hibernians, John F Kennedy Division; and long-time supporters of the communion breakfast, St Patrick's Scholarship dinner and have proudly marched in the Bridgeport St. Patrick's Day parade with the Fairfield Garden Club and the Irish Scholarship Committee for more than 20 years.
David and Ann Marie are on the board of the Fr. John Conlisk Scholarship Committee, founded by their close friends Kevin and Mary Beth Conlisk, of Fairfield.
The committee provides a scholarship for an Irish student to attend Fairfield University's Dolan School of Business to study for their master degree. The Curtins have always included those visiting Irish students into family events, especially at Thanksgiving, Christmas and Easter.
David and Ann Marie are daily communicants at St. Pius X church in Fairfield, where Ann Marie is both a Eucharistic minister and lector.
A number of pre-parade festivities will take place including a Half-
Way to St Patrick's Day party on Sept. 17 at Kieran's Place restaurant, 2425 Morehouse Highway at the Smith Richardson golf course in Fairfield.
The Grand Marshals' Christmas Gala is scheduled for Dec. 15 at the Gaelic American Club, 74 Beach Road, Fairfield; and the Mister and Miss Shamrock dinner- dance for Jan. 13,2018 at the Gaelic American Club.
For further information visit www.stparicksdaybridgeport.com.
To volunteer to help with the 2018 event, call the Curtins at 203-366-7187.
Past Parade Grand Marshals
2017 Tom McCarthy
2016 Alanna Kabel
2015 Ted Lovely
2014 Terry O'Connor
2013 Ed & Peggy O'Connor
2012 Richard & Deborah Owens
2011 Frank Carroll
2010 Bob O'Keefe
2009 Peter Bellew
2008 Robert Curwen
2007 Patrick Daly
2006 John Carolan
2005 Connie & Art Beagan
2004 Robert Emmett O'Sullivan
2003 Dave Howe
2002 James O'Donnell
2001 Patrick Carolan
2000 John Smith
1999 Ann Migliore
1998 Patrick Boland
1997 Cathy Brannelly Austin & Maura Brannelly O'Mailley
1996 Kevin Conlisk
1995 Father Michael J. Flynn C.S.S.P.
1994 Dick Callahan
1993 Marge & Bob Sheehan
1992 William J. Carroll
1991 Mae King
1990 John Sullivan
1989 Joseph Walsh
1988 Frank McEvoy
1987 John F. McCarthy
1986 James "Bud" Keane
1985 Frank McGee
1984 Patrick Sherwin
1983 Martin Reidy