David and Ann Marie Curtin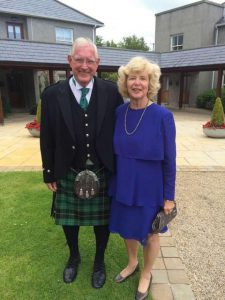 David and Ann Marie Curtin, of Fairfield, the great-grandchildren of Irish immigrants, have been named Grand Marshals for the 2018 Greater Bridgeport St. Patrick's Day Parade.
"Ann Marie and I will walk next year — as we have for the last 20 years — in particular remembrance of our great-grandparents, Michael Curtin, who emigrated in 1834, and Thomas McMahon, who came in 1864," said David, a retired Verizon executive.
"And for all those who came both before and since. On this coming St. Patrick's Day we should remember that we're all immigrants," he said.
The 2018 parade will be on Friday, March 16 in downtown Bridgeport.
Both were born and raised in Syracuse, N.Y., and moved in 1980 to Connecticut, where they raised their five children: Meghean, Paul, Dave, Dan and Neil. They are the proud grandparents of 17 grandchildren.
Ann Marie is a retired special education teacher in the Fairfield Public School system. They are members of the Gaelic American Club; Ancient Order of Hibernians, John F Kennedy Division; and long-time supporters of the communion breakfast, St Patrick's Scholarship dinner and have proudly marched in the Bridgeport St. Patrick's Day parade with the Fairfield Garden Club and the Irish Scholarship Committee for more than 20 years.
David and Ann Marie are on the board of the Fr. John Conlisk Scholarship Committee, founded by their close friends Kevin and Mary Beth Conlisk, of Fairfield.
The committee provides a scholarship for an Irish student to attend Fairfield University's Dolan School of Business to study for their master degree. The Curtins have always included those visiting Irish students into family events, especially at Thanksgiving, Christmas and Easter.
David and Ann Marie are daily communicants at St. Pius X church in Fairfield, where Ann Marie is both a Eucharistic minister and lector.