Mary Ann Doonan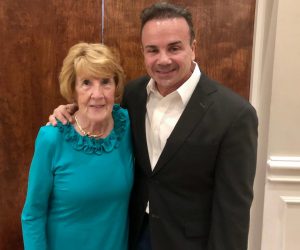 Mary Ann Doonan of Stratford was unanimously elected as its Grand Marshal for the parade to be held on Tuesday, March 17, 2020 through Downtown Bridgeport.  Doonan, who is retired from People's United Bank operations department, is longtime volunteer leader in the Irish community.
"Each of the 18 nominations that we received for Mary Ann Doonan would make you cry," stated Peter Carroll, 2019 Grand Marshal who was in charge of the selection committee.  "Mary Ann is so deserving and yet when I called her to tell her she was selected, she said there are others more deserving… fortunately, her husband told her to 'say yes'," Carroll added.
Born Mary Ann O'Connell in County Kerry, Ireland, Mary Ann was the oldest of 14 children.  At 16 years old, she left Kerry to pursue her dreams in the United States.  She arrived in 1956 and found a home at the Gaelic American Club.  She volunteered there for decades and was elected the first woman president in the Club's history in 1997 and 1998.  She wasn't the last, paving the way for other women.
Soon after the Parade Committee was formed, Mary Ann joined in and held many roles over the years including establishing the Miss Shamrock Scholarship program and serving as Treasurer and in 2011 Chairperson.  She has volunteered for many other groups including the Mercy Learning Center, Merton Center, Under the Bridge program and Ancient Order of Hibernians.   In her spare time, she knits prayer shawls along with her group from St. James Church for the patients at St. Vincent's Medical Center.
Doonan will be introduced at various events including the Half Way to St. Patrick's Day Party at the Gaelic American Club on September 15, 2019.   As a Grand Marshal, Doonan will receive her official silk sash and green blazer at the Grand Marshal's Ball in January.
It takes about $75,000 annually to pay for the parade and fund its scholarship program according to the Parade Chairperson, John Brannelly.
"Mary Ann Doonan will help us with various fundraising programs that take place throughout the year to raise funds including a golf tournament on October 1 at Mill River Country Club in Stratford," Brannelly added.
Mary Ann has been married Peter Doonan for 55 years and together they raised their daughter and three sons in Stratford, instilling her Irish heritage in each of them.  Now, 80 years old and a grandmother, she still volunteers for many groups and still inspires others to get involved, which is an important trait for a Grand Marshal.
The St. Patrick's Day Parade has been a Downtown Bridgeport tradition since 1983 and has been held in rain, sleet, snow, wind and sunshine. The original parade Committee was formed back in 1982 when Bridgeport Mayor Leonard S. Paoletta asked City Clerk Catherine C. Brannelly to organize a St. Patrick's Day Parade and Martin Reidy was the first Grand Marshal.
Past Parade Grand Marshals
2019 Peter Carroll
2018 Ann Marie Curtin and David Curtin
2017 Tom McCarthy
2016 Alanna Kabel
2015 Ted Lovely
2014 Terry O'Connor
2013 Ed & Peggy O'Connor
2012 Richard & Deborah Owens
2011 Frank Carroll
2010 Bob O'Keefe
2009 Peter Bellew
2008 Robert Curwen
2007 Patrick Daly
2006 John Carolan
2005 Connie & Art Beagan
2004 Robert Emmett O'Sullivan
2003 Dave Howe
2002 James O'Donnell
2001 Patrick Carolan
2000 John Smith
1999 Ann Migliore
1998 Patrick Boland
1997 Cathy Brannelly Austin & Maura Brannelly O'Mailley
1996 Kevin Conlisk
1995 Father Michael J. Flynn C.S.S.P.
1994 Dick Callahan
1993 Marge & Bob Sheehan
1992 William J. Carroll
1991 Mae King
1990 John Sullivan
1989 Joseph Walsh
1988 Frank McEvoy
1987 John F. McCarthy
1986 James "Bud" Keane
1985 Frank McGee
1984 Patrick Sherwin
1983 Martin Reidy