Peter Carroll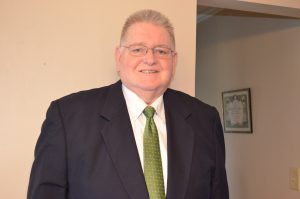 Peter Carroll was born into a large, Irish family in Bridgeport.  He is the son of the late Frank and Irene Carroll. Peter attended St. Augustine's and is a 1971 graduate of Bullard Havens High School.
Peter has been a resident of Stratford for the last 40 years.  As a resident, Peter has participated in the community through various avenues.  Peter is a former member of the Stratford Planning Commission as well as the Recreational Commission.  He is a former member of the Democratic town committee as well as serving as a Justice of the Peace for 38 years.  Peter was also a business owner within town.  For over seventeen years he owned Stonybrook Restaurant.  Through his business he was able to sponsor local softball teams such as the Stonybrook J.A.W.S, Raiders and Jawettes.  As well as the Raiders flag football team.
Peter has also been an I.A.A.B.O member for forty-three years.  In 1976 Robert and Edwin Balla started Peter on a lifetime journey with basketball.  In the ten years Peter officiated he worked the F.C.I.A.C, M.B.I.A.C and WCC league championships.  During his time officiating, Peter also worked the state tournament finals twice.  For the past thirty-three years Peter has served as commissioner for Board #9 in Fairfield County.  As an active official Peter served as President of the Fairfield County Board #9 and Board #5 State President.  He also served on the Executive Committee of the I.A.A.B.O.  Peter's dedication to basketball took him to High School basketball's highest position when he became the 69th International President in Mystic, Connecticut during the I.A>A.B.O Annual Spring Convention in 2007.
Peter has received the Bernie Iassogna Award given by Fairfield County Board #9.  The James Coogan Award given by the State Board #5.  These awards are given for dedication and unselfishness for the betterment of basketball.  In 2005 Peter had the distinct honor of being inducted into the F.C.I.A.C Hall of Fame.  He also has been awarded the Merit Award by the C.I.A.C. in 2007 for his contributions to Connecticut high school basketball.  Also in 2007 the National Rule Handbook was dedicated to Peter.  He is the only official that is a member of the C.I.A.C boys' basketball committee.
Professionally Peter currently holds the title of Business Manager of local 488 I.B.E.W.  He also serves as President of the Fairfield County Building Trades.  Through these positions Peter can continue to advocate for better working conditions for his members.
The local union 488 I.B.E.W. is very involved with the community.  Local 488 is a major sponsor of the St. Patrick's Day parade, Columbus Day parade and the Juneteenth Parade.  Twice a year Local 488 sponsors 80 buses of kids to the Arena to see a Sound Tiger Hockey game.  They sponsor the Barnum Festival Fireworks as well as many other Barnum Festival events.  The local 488 also donate and sponsor events through the Sheanan Center, McGiveney Center, Marilyn Goldstone Foundation, St. Vincent's Swim Across the Sound, and the Bridgeport Fire and Police Golf Tournaments. Local 488 also donated to the families of Bridgeport Firefighters that were killed in the line of duty. In recent years local 488 donations have also been made to support the Sterling House Toy Drive and Adopt a family program.  They also sponsored and purchased a lighthouse through the Stratford Arts Commission Street sculpture program and donated 600 boxes of Girl Scout Cookies to the Troops.
Peter has been married for Forty-three years to his wife Joan.  He has two daughters, Lisa and her husband Keith Fabian and their daughters Paige and Taylor.  Meghan and her husband Jerome White and their sons Miles and Colin.
Past Parade Grand Marshals
2018 Ann Marie Curtin and David Curtin
2017 Tom McCarthy
2016 Alanna Kabel
2015 Ted Lovely
2014 Terry O'Connor
2013 Ed & Peggy O'Connor
2012 Richard & Deborah Owens
2011 Frank Carroll
2010 Bob O'Keefe
2009 Peter Bellew
2008 Robert Curwen
2007 Patrick Daly
2006 John Carolan
2005 Connie & Art Beagan
2004 Robert Emmett O'Sullivan
2003 Dave Howe
2002 James O'Donnell
2001 Patrick Carolan
2000 John Smith
1999 Ann Migliore
1998 Patrick Boland
1997 Cathy Brannelly Austin & Maura Brannelly O'Mailley
1996 Kevin Conlisk
1995 Father Michael J. Flynn C.S.S.P.
1994 Dick Callahan
1993 Marge & Bob Sheehan
1992 William J. Carroll
1991 Mae King
1990 John Sullivan
1989 Joseph Walsh
1988 Frank McEvoy
1987 John F. McCarthy
1986 James "Bud" Keane
1985 Frank McGee
1984 Patrick Sherwin
1983 Martin Reidy